Celebrating 50 years
CAMRA was founded in 1971 with the simple vision of improving consumer choice of great beer and pubs. 50 years on, there is a lot to celebrate!
Campaigning for Pubs, Pints & People Since 1971
CAMRA is one of the most successful consumer organisations across Europe. Founded by four real ale enthusiasts back in 1971, today we represent beer drinkers and pub-goers across the UK. Our vision is to have quality real ale, cider and perry and thriving pubs in every community. 
There are a lot of things to celebrate over 50 years of supporting and promoting the beer and pubs trade. Take part in the festivities by finding out more below!
50th book
Laura Hadland has written a book outlining CAMRA's rich 50 years history, which is now available from the CAMRA shop!
Golden Awards
We want to recognise 50 individuals, groups and businesses that have contributed to the brewing and pubs world.
Volunteering
Hear from our volunteers – why they help, campaign and hopes for the next 50 years of CAMRA! And see how to get involved.
Campaigning milestones
Click to read 50 'behind the scenes' insights from key moments in CAMRA's history.
Beer Boxes
Learn more about our specially curated anniversary beer boxes, available to order 31 March.
.
Branch assets
Resources for CAMRA branches: click to find social media and branch magazine assets.
50th Calendar
Visit the 50th Events Calendar to see what anniversary events are happening near you or submit events for listing.
50th Logos
Resources for CAMRA branches: click to find image files of the 50th anniversary logo.
Logo FAQs
Resources for branches: click below to find the 50th Logo Usage FAQs.
Dive into the history of CAMRA with our podcast, Pubs. Pints. People.
In an episode of the CAMRA podcast Pubs. Pints. People., recorded and aired June 2020, our hosts and special guests look back on the history of CAMRA. Have a listen below, and learn more about the podcast here: camra.org.uk/podcast
Michael Hardman
Bill Mellor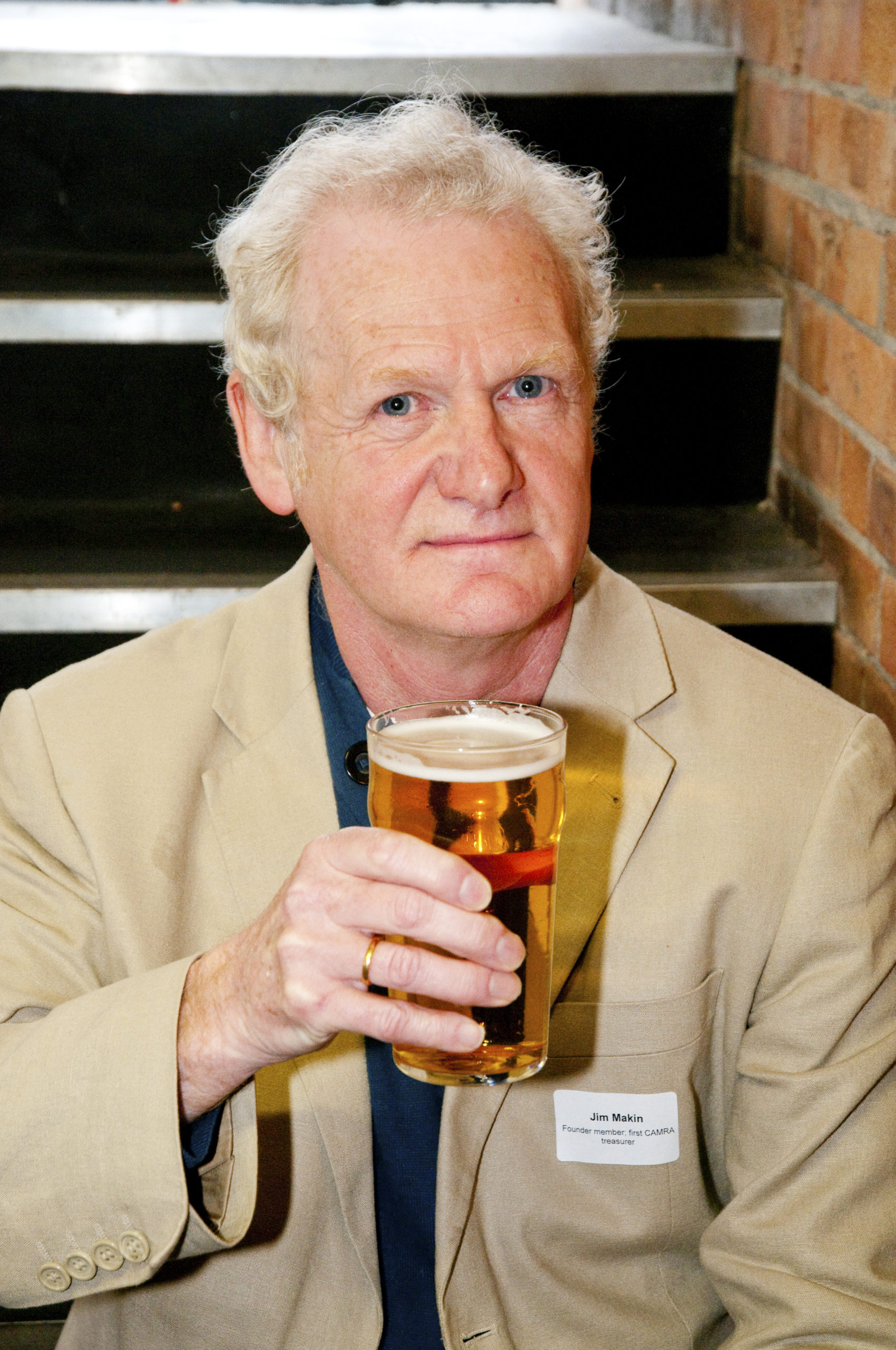 Jim Makin
Graham Lees
Some of the highlights from our 50 years of campaigning.
An idea
CAMRA was formed in March 1971 by Michael Hardman, Jim Makin, Bill Mellor and Graham Lees on a trip to Ireland. At the time, the 'Big Six' brewers (Allied, Bass, Courage, Scottish & Newcastle, Watneys and Whitbread) had monopolies on entire regions of the country, owning hundreds of pubs that could only sell their brews. They were pushing tasteless kegged beer onto consumers because it was easier to produce, store and serve, and as a result quality real ale was incredibly hard to find. In fact, there were just five bottle-conditioned beers in existence in the world.
Spreading the word
The early years were marked by the recruitment of members and setting up what would soon be Europe's largest consumer organisation. In 1972 What's Brewing newspaper was founded, followed shortly by the first edition of the Good Beer Guide in 1974 - originally a short pamphlet compared to the 'bible' produced 48-years later. These were some of the first beer/ pub centric publications produced in the UK.
Birth of the modern beer festival
That same year the first-ever beer festival in modern times took place in St Albans, boasting 26 different casks from 14 brewers. In 1975 the Great British Beer Festival was held at Covent Garden and was a roaring success. Volunteers worked flat out throughout the weekend to source more beer for the festival which kept running out.
Making an impact
It wasn't very long until CAMRA started to get noticed. The 'Big Six' started to respond to the calls for cask ale, and in 1976 Allied Brewing introduced Burton Ale, it's first real ale ever produced. Whatneys soon followed with a cask conditioned beer, and Truman's came out with Truman's Tap - the first cask conditioned brew in many years.
Fighting for ABVs
That same year, CAMRA took on the fight for beer strengths to be properly labelled at the point of dispense. It's hard to imagine, but at the time ABVs were fiercely guarded secrets. CAMRA members collected beer samples from pubs around the country to test the original gravity of the beer, then publishing the findings in What's Brewing and the Good Beer Guide. This move forced brewers' hands to start sharing information on ABVs for the very first time.
Supporting breweries
Other CAMRA activity had significant impacts on brewers as well. In 1986, Bateman's Brewery was under threat of sale, and was saved as a brewery thanks to daily letters written by members. When their iconic XXXB bitter won the Champion Beer of Britain competition, investors came back on board to help save the brewery from closure.
The Government gets involved...
It wasn't long before CAMRA drew the Government's attention to the business of beer - highlighting the annual price increases from the Big Six and putting the monopoly situation firmly on their agenda. In the late 70s the Government recommended 'pub swapping' to encourage regional brewers to showcase other types of beers in their pubs.
1989 Beer Orders
In 1989 the Beer Orders was introduced. These wide-reaching reforms broke up the brewing cartel by restricting the number of pubs a brewer could own to just 200 pubs, resulting in the Big Six selling or freeing from tie over 11,000 pubs.
The legislation also forced brewers to stock at least one competitor beer in their pubs, and thanks to CAMRA, that guest beer had to be a cask-conditioned beer. This enabled lessees to stock real ale from whomever they wished, resulting in an explosion of new breweries.
CAMRA expands
The huge success in CAMRA's campaigns to break up the brewing cartel led to it being taken on in different areas. In 1988 CAMRA took on the mantle of campaigning for real cider and perry under it's "APPLE" Committee. This also marked the beginning of the National Cider and Perry Championship competition to find the very best cider and perry in the UK, placing real cider and perry firmly on the side of real ale for the Campaign.
Good news spread
Further afield, the European Beer Consumer Union (EBCU) was created by CAMRA with similar national beer consumer groups from The Netherlands and Belgium to represent beer consumers across continental Europe. The move came at a time when the European Commission was attempting to ban the guest beer provision in the 1989 Beer Order. CAMRA not only managed to thwart the activity, but successfully lobbied for a bottle conditioned beer to be added to national brewers' lessees as well.
CAMRA today
By now, CAMRA is a well-established as a powerful campaigning force within the beer and pub sector. Over the following three decades, it influenced a number of pieces of legislation aimed at supporting and improving the beer drinkers and pub-goers experience. Over 200+ branches spring up across the country, each of which run local beer festivals and awards to celebrate the industry. CAMRA Books publishes hundreds of titles about beer and pub campaigning, and our national awards and Great British Beer Festival draw the attention of the national media.