Enjoying our nation's glorious pubs is now more important than ever before! Support pubs and breweries with CAMRA today.
Our pub culture is admired around the world – the French writer and anglophile, Hilaire Belloc even warned us in the early 1900s, 'change your hearts or you will lose your inns and you will deserve to have lost them. But when you have lost your Inns drown your empty selves, for you will have lost the last of England.'
COVID-19 has had a devastating impact on pubs up and down the country and so in order to safeguard them we need to get back to our locals and visit new pub locations on our holidays and weekend breaks from now on. If you enjoy visiting a local pub or pubs on a holiday break, then you may have also heard of the Campaign for Real Ale (CAMRA). 
CAMRA has been campaigning for great beer and pubs for over 50 years. Its influence has seen incredible campaign wins over the years, ensuring that we can ALL now enjoy a wide range of great tasting beer and cider at home and in pubs and restaurants. Without CAMRA's dedicated membership, Britain simply wouldn't be the brewing nation it is today!
A love of beer and pubs can open the door to so many more opportunities.
With over 200 local branches around the country organising beer festivals and socials, CAMRA membership can help you get out, learn about your favourite drinks, and make a difference, either on your travels or in your local area.
Here are some of the great reasons why you might want to find out more about CAMRA:
Discover and enjoy the best pubs in Britain
As a beer lover, it's important to be able to find a good pint wherever you are in the country. CAMRA members across the country help score beer in their locals to inform the UK's best-selling beer and pub guide,
The Good Beer Guide
.
You can get involved and uncover the best pubs and clubs serving real ale and real cider across the country. You can also purchase the guide or associated app to discover the best pubs in the UK.
Unearth the UK's pub heritage
If you love history, you'll be amazed to find out how much heritage can be found in pubs around the UK.
Pubs are such an important part of our nation's heritage, with many a tale to tell.
You can access (and even help to maintain) a wealth of information online or in print, and unearth some beautiful or unique settings to enjoy your favourite tipple in. There are some amazing pub interiors which CAMRA helps to preserve.
Explore the outdoors with a pub walk
When you think of beer, you might picture real ale being pulled from a pump in a delightful country pub setting. That's why pub walks are a great way to get some exercise in the great outdoors, whilst also discovering smashing pub locations and ale. If you're really adventurous, you can go off the beaten track, and try wild pub walks, or unusual ones by bike or boat!
Check out local CAMRA guides and the Pub Walks book series for inspiration.
Become a beer expert
Discover all there is to know about beer, cider making and more! Whether you are a complete novice, a keen enthusiast or wanting to become a beer connoisseur, there are plenty of resources to get stuck into. You can join beer tastings and brewery tours through your local branch, find out how beer is made, the different ingredients and styles, and even how to become a beer competition judge. You can also access online learning resources, quarterly 
BEER 
magazines,
What's Brewing 
online news, subscribe to podcasts
,
 or get stuck into a CAMRA book!
Get involved in key campaigns and make a difference
If you care about the beer you drink and the brewers that make it, you can help campaign to support the industry. 
From lobbying the government for tax relief to saving local pubs from closure, there's plenty to do at local and national level, now more than ever.
Did you know CAMRA has been at the forefront of supporting pubs and breweries during the COVID-19 pandemic, and we are now helping pub-goers get back to the pubs they love?
Find out how you can make a difference and support our beloved pubs.
Get home brewing or cooking with beer
Home brewing has become increasingly popular, and there are loads of resources now available to help you get started or to offer some new brew recipes.
Beer battered fish and chips are a regular on pub menus, and you can discover more culinary delights cooking with beer or cider with CAMRA.
Recipes are regularly featured in CAMRA's BEER magazines and podcasts. Why not try a mushroom cider pie or mussels with beer and bacon!
Make new friends at a local branch or beer festival
Make like-minded friends by getting involved at a local, regional or national level in all sorts of CAMRA activity. There are plenty of volunteer roles to suit every skill set – from publicity officer, branch secretary, treasurer, magazine editor, festival helper or pub coordinator – to name just a few. Help stage a CAMRA beer festival or a social or campaigning. Use your interest and skills to encourage beer and cider drinking, and pub and club-going for all – and help contribute to keeping our great British pub culture alive for future generations.
And for as little as £26.50 a year, join CAMRA and access a whole range of great benefits including £30 real ale vouchers and more. 
Pubs need your support now!  CAMRA membership counts. Join CAMRA and help us campaign for great beer and secure the future of pubs across the country.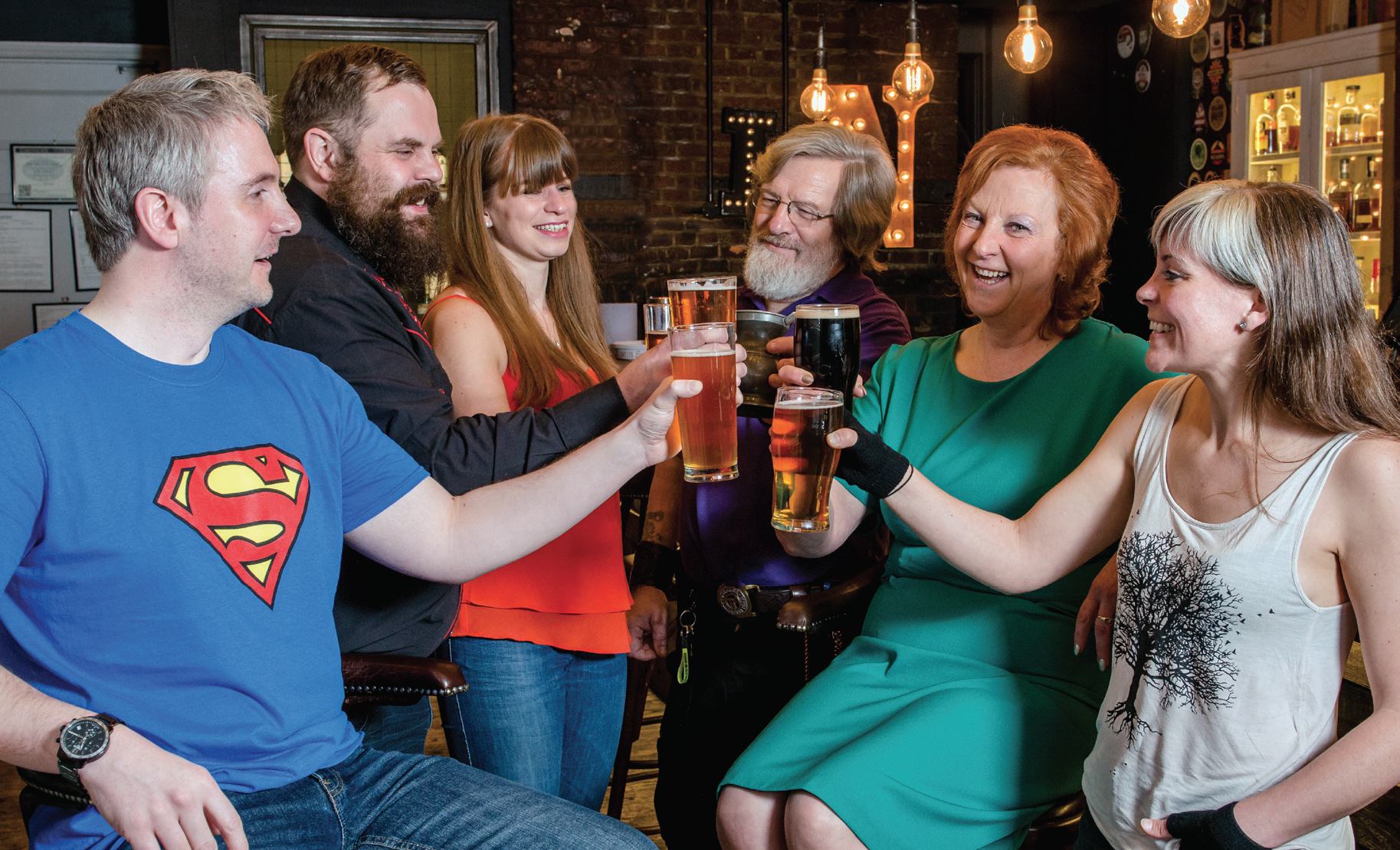 Joining online is quick and easy, and it will give you access to everything you need to start with your CAMRA membership.
Treat friends and family to CAMRA gift membership. The perfect gift for all beer and pub lovers.
Your membership enables CAMRA to campaign for pints, pubs and people.
What your membership includes:
A welcome pack to help you make the most of your membership
Opportunity to campaign for great beer and pubs, and to save pubs under threat from closure
Award-winning BEER magazine (quarterly) and What's Brewing online
Learning resources to help you discover more about beer and brewing
Discounts on CAMRA books including our best-selling Good Beer Guide
Exclusive member discounts from retailers and other outlets
Free or reduced entry to CAMRA beer festivals (Back when government restrictions allow)
£30 worth of CAMRA real ale vouchers  (for use at pubs including JD Wetherspoon, Stonegate, Amber Taverns, SA Brains and more)
The Real Ale Discount Scheme where you receive discounts on pints at over 3,500 participating pubs with your membership card.
Find out more about all the CAMRA Benefits available to members: