Virtual backgrounds celebrating our nation's pubs
Immerse yourself in some of the country's most unique national treasures.
Free to download
Be the envy of your friends and colleagues by transporting yourself to a national treasure! Enjoy introducing people to a few of our nation's unique, historical and well-preserved pubs with our free downloadable images for Zoom meetings and other virtual get togethers. It's a great way to bring a bit of extra interest to your calls and online meetings, and to share some unique pub locations. 
All of these pubs are recorded and logged by CAMRA's Pub Heritage Group, who are dedicated to protecting, preserving and promoting the nation's unspoilt pubs. Pubs with traditional interiors, or unspoilt features and rooms are visited and logged up and down the country and many are now protected and recognised as pubs of historical and architectural importance. 
To find out more we have a number of regional guides, which now includes the South East of England, as well as the Best of British Real Heritage Pubs, all available from the CAMRA Bookshop.
Instructions 
Click on the image you want to download, right click and save it as a jpg. Then go into your Virtual Meeting software of choice – Zoom, Teams etc – and follow the instructions to change your background effects or settings. Note images that may appear reversed to you will appear correct to other meeting participants.
See NEW for latest additions from the Pub Heritage Group.
Many thanks to Pub Heritage Group and Michael Slaughter for use of images.
NEW The King's Head, Laxfield, Suffolk
An outstanding, unspoilt country pub that dates from the 16th century. It has one of the most remarkable public bars in the country and was run by the Felgate family from 1882 until 1979. It was purchased by a group of regulars in 2018. 
Find out more  Buy associated book
NEW 

Test Match Hotel, West Bridgford, Nottinghamshire
One of the best Art Deco pub interiors in England. Built in 1938, it is one of the finest surviving inter-war pubs in the country. It has wall paintings depicting cricket bats, The Ashes urn, and notable cricketers, William Clarke and George Parr by Notts artist, T.L.B.Hutchinson. Find out more  Buy associated book
NEW The Fleece Inn, Bretforton, Worcestershire
The Fleece Inn includes The Pewter Room, named after the impressive pewter collection that has been on display for over 300 years. Witches circles on the original inglenook fireplace, according to tradition, prevent witches from coming down the chimney. Find out more  Buy associated book
NEW Golden Cross, Cardiff
Built in 1903, this is the most spectacularly decorated pub in Wales and is famous for its ceramics by Craven Dunnill of Shropshire. It contains two original tiled panels, depicting Cardiff Castle and Cardiff's old Town Hall. Find out more  Buy associated book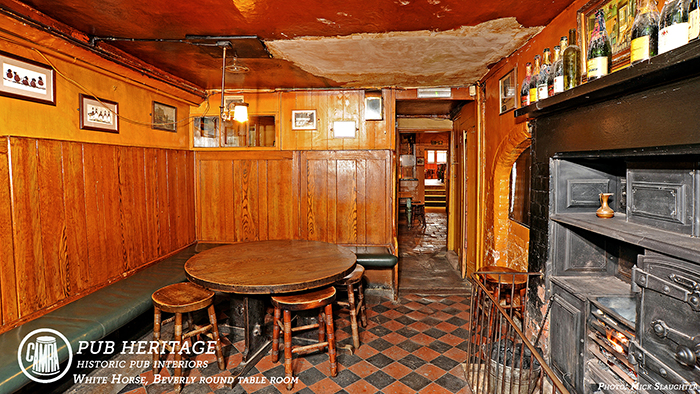 NEW The White Horse, Beverley, Yorkshire
A Yorkshire institution, also known as 'Nellie's' is an historic gem! It has a warren of rooms with uneven sawdusted floors, gas lighting and blazing fires in the old hearths in winter. 
Find out more  Buy associated book
NEW The Bell Inn, Aldworth, Berkshire
A classic rural pub that has been in the same family since the 18th century. It includes a tap room with a quarry-tiled floor, gigantic inglenook fireplace, and a one-handed clock.
Find out more  Buy associated book
The Black Friar, London
A pub themed around the friars of the Dominican friary of 1276, with a barrel-vaulted area with reliefs of Aesop's fables and nursery rhymes. Find out more  Buy associated book
Peter Kavanagh's Merseyside
Large murals of Dickens and Hogarth scenes, together with stained glass and jokey woodwork cover the walls, commissioned by the remarkable namesake licensee. Find out more  Buy associated book
NEW Bennet's Bar, Edinburgh
A traditional single-room tenement bar in the Morningside area of the City. Walls are adorned with photographs of old Edinburgh and brewery mirrors. Find out more  Buy associated book
Tucker's Grave, Faulkland, Somerset
This 18th-century cottage has housed a pub for over 200 years. There is no bar but casks of beer and cider are stacked in the bay window of the public bar. Find out more  Buy associated book
Mr Thomas's (now Mrs Sarah's) Chop House, Manchester
A pub with a fancy Jacobean interior dating from 1901. Light green ceramic arches and cream tiling, and an outstanding ceramic fireplace included. Find out more  Buy associated book
Kings Head, Bristol
A long narrow pub dating from the 17th century. It contains the delightful 'Tramcar Bar' – a snug supposedly shaped to look like an old tramcar!
Find out more  Buy associated book
The Kenilworth, Edinburgh
An impressive pub with an island bar, walls covered in tiles and coloured plasterwork and Art Nouveau-style stained glass windows.
Find out more  Buy associated book
Screensaver – instructions
Having downloaded your favourite photos, why not create a Heritage Pubs Screensaver?
Instructions on how to create one can be found in YouTube videos – search 'How to Create a Photo Slideshow Screensaver'.
For Windows, you just need to create your album of images, then right click on desktop, choose Personalise, Background – Slideshow, choose Album and desired settings, apply and enjoy!
Discover more about Pub Heritage and support CAMRA
Discover more of Britain's Best Real Heritage Pubs with CAMRA's Pub Heritage Group publications. Lots of regions to choose from, and a great gift for all beer and pub lovers!
Give the gift of CAMRA membership to the beer or pub lover in your life. Support CAMRA, get involved and help save our nation's beloved pubs for future generations.