Mark your calendar for Cask Ale Week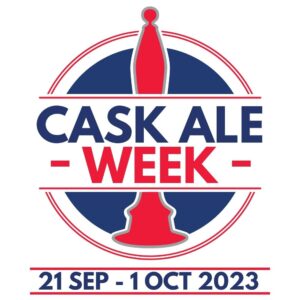 CAMRA is urging its members to join in the Cask Ale Week celebrations (21 Sept – 1 Oct) by supporting their local pubs and breweries participating in the festivities.  
Cask Ale Week is a celebration of Britain's national drink. It aims to engage and supports breweries, pubcos and pubs to organise events that encourage customers to discover – and fall in love with – real ale.  
Pubs and breweries are organising a range of events and activities to celebrate, whether it's offering a free pint, running a beer festival or hosting live music. Cask ale lovers can search for participating events by visiting https://caskaleweek.co.uk/map/ and via the CaskFinder app. 
Users of the CaskFinder app will also be offered exclusive incentives during Cask Ale Week to use the app, visit new pubs and scan new beers. 
CAMRA's Learn & Discover platform offers fantastic educational materials including written and video content, for members and non-members alike. Visitors to the platform can find out about cask beer from video's including one from author and founder of The Craft Beer Channel on YouTube, Jonny Garrett, about why cask beer is in decline and why it matters. Watch his video here. 
CAMRA Books has recently published CASK – the real story of Britain's unique beer culture by award-winning beer writer Des De Moor. The book introduces cask beer to a new generation, explaining why it's still important and what distinguishes it from other beer. Find out more about the book here. 
Nik Antona, CAMRA's National Chairman said: "The cask ale sector has been hard-hit this year with rising costs, sky high energy bills, unfair business rates and customers tightening their belts. Cask Ale Week is therefore a fantastic opportunity to go out and support the UK's national drink, which is truly the pinnacle of the brewing art. Cask beer is fresh, artisan, and naturally carbonated – furthermore it is almost exclusively available here in the UK. It is worth protecting, promoting, and preserving for generations to come." 
To find out more, please visit https://caskaleweek.co.uk/