Elland's 1872 Porter crowned the Champion Beer of Britain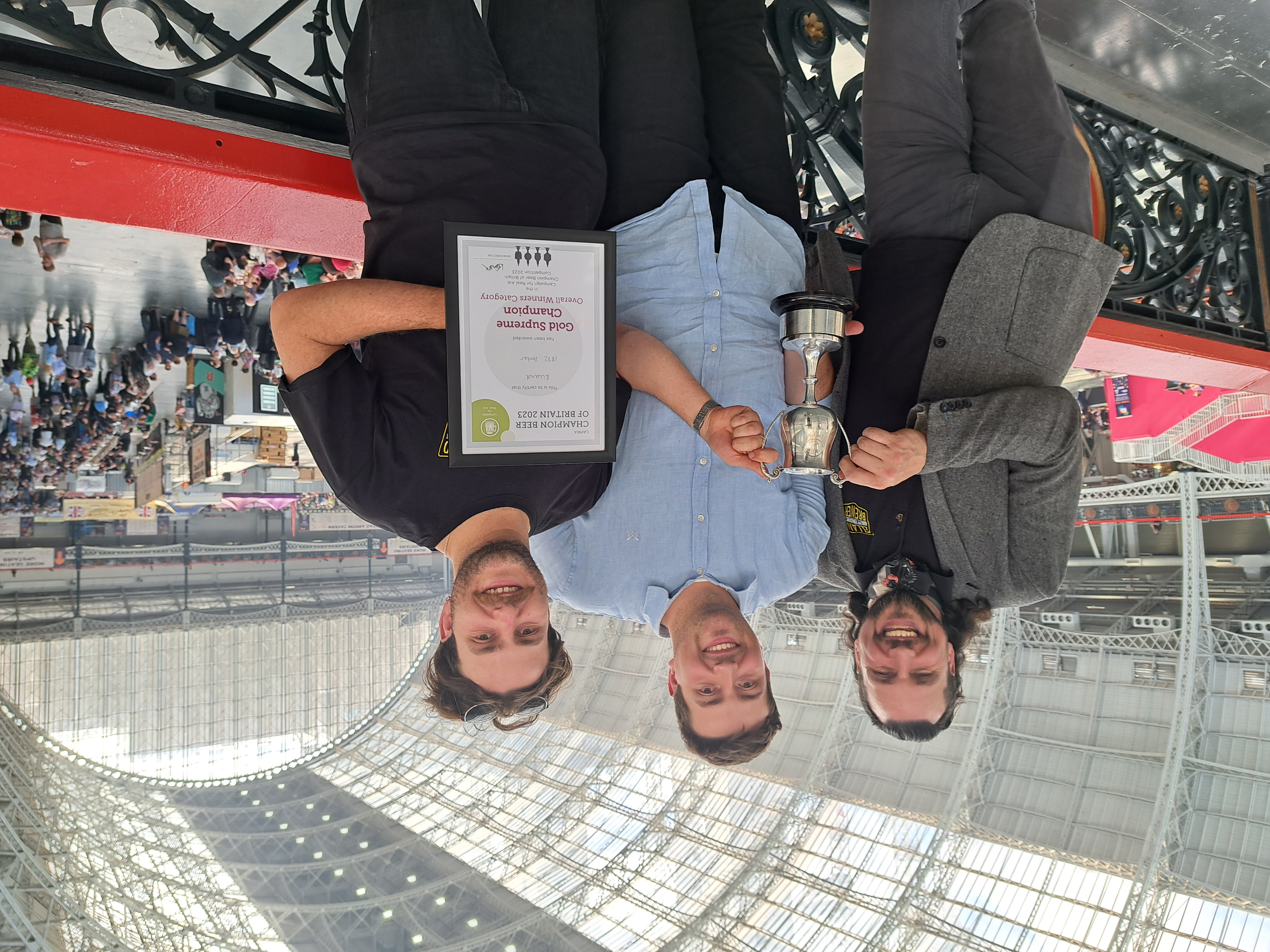 Elland Brewery's 1872 Porter (6.5% ABV) has struck gold and has been crowned the best in Britain after winning the Campaign for Real Ale's (CAMRA) prestigious Champion Beer of Britain competition.  
The 1872 Porter was crowned the official winner at this year's Great British Beer Festival (GBBF), following a rigorous and hard-fought competition. The beer has been awarded Champion Winter Beer of Britain four times previously, the most recent being this year.  
Champion Beer of Britain co-ordinator Christine Cryne said it was a deserving champion, despite incredibly strong competition. She described the beer as a ruby black porter, with chocolate and caramelised fruit flavours with a hint of black toffee on the nose. The judges enjoyed its smooth mouthfeel with a finish that is roasty and dry. A satisfying and remarkably easy drinking porter.  
The award – one of the most coveted real ale competitions in the world – puts the winner firmly in both the national and international spotlight. It was exclusively revealed at today's GBBF trade session today (1 August).  
Festival visitors will be able to enjoy sampling this year's newly crowned champion, along with the well-deserved silver and bronze winners' beer, which will be on sale at the festival, marked by rosettes and special pump clips.  
Runners up were Silver prize winner Abbot (5%) from Greene King Brewery, described as a classic premium bitter with typical fruit hops and malty throughout; and Bronze winner Darwin's Origin (4.3%) from Salopian Brewery, which impressed judges with citrus, earthy hops and a flavour that starts fruity and fades into a pleasant bittersweet finish.  
Brewer Rob Thomas said: "It is absolutely unbelievable to win this accolade, we really didn't expect it. For a team of three people to win the supreme award is fantastic. There is a real passion for more traditional styles – and for a very good reason, they taste fantastic!  
"The beer is steeped in history with the recipe dating back more than 150 years. We thrive on these sorts of styles and this is testament to what people enjoy drinking: steeped in history, tradition while embracing innovation. 
He added: "Since lockdown, we have faced many challenges and difficult times and this is testament to our small team and our unwavering loyalty to succeed. We passionately believe in our products and people do get excited to try everything we make, we are incredibly proud to take home the crown." 
Laura Emson, CAMRA's National Director responsible for the competition, says: "Congratulations to Elland Brewery for winning this year's Champion Beer of Britain Award. As ever, it was a highly competitive final, with the judges having a difficult decision to make. Congratulations to all the finalists – it really shows the wide range and amazing cask beers which are available for all to enjoy. 
"Huge thanks to all the competitors for taking part and to the judges who had a tough decision to make! It is a real honour to be part of this competition and to see how much hard work, professionalism and dedication goes into producing the best of the best." 
Judging takes place over almost a year from individual nominations at the outset, to local and regional competitions taking place, ahead of a day of rigorous and intensive judging at GBBF.  
ENDS 
Notes to editors:  
All category winners:  
MILD: 
Gold – Dark Mild, Harvey's Brewery 
Silver – Dark Mild, Bank Top Brewery 
Bronze – Gravediggers Ale, Church End Brewery
SESSION BITTER:  
Gold – Darwin's Origin, Salopian Brewery 
Silver – Landlord, Timothy Taylor 
Bronze – Captain Bob, The Mighty Oak Brewing Company   
PREMIUM BITTER:  
Gold – Abbot Ale, Greene King 
Silver – Jemima's Pitchfork, Glamorgan Brewing 
Bronze – XXXB, Batemans   
IPAs: 
Gold – Diablo Dragons, Bragdy Twt Lol 
Silver – Bravehop, Loch Lomond Brewery 
Bronze – Jaipur, Thornbridge Brewery   
SESSION PALE, BLOND & GOLDEN ALES: 
Gold – Island Hopping, Swannay Brewery 
Silver – Inferno, Oakham Ales 
Bronze – Oracle, Salopian Brewery   
PREMIUM PALE, BLOND & GOLDEN ALES: 
Gold – Electric Landlady, Baker's Dozen Brewing Co. 
Silver – Kiwi, Blackedge Brewing Co. 
Bronze – Proper Job, St Austell Brewery   
WINTER ROUND WINNERS: 
Stouts and Porters, Session – Dark Drake, Dancing Duck Brewery 
Stouts and Porters, Strong – 1872 Porter, Elland Brewery 
Speciality, Flavoured – Earl Grey IPA, Marble Beers 
Speciality, Differently Produced – Dead Man's Fist, Chapter Brewing Company 
Brown Ales & Red Ales, Old Ales & Strong
Milds: Brampton Mild, Brampton Brewery 
Barley Wines and Strong Old Ales: Old Tom, Robinsons Brewery