CAMRA national award recognises campaigners for saving 200-year-old village pub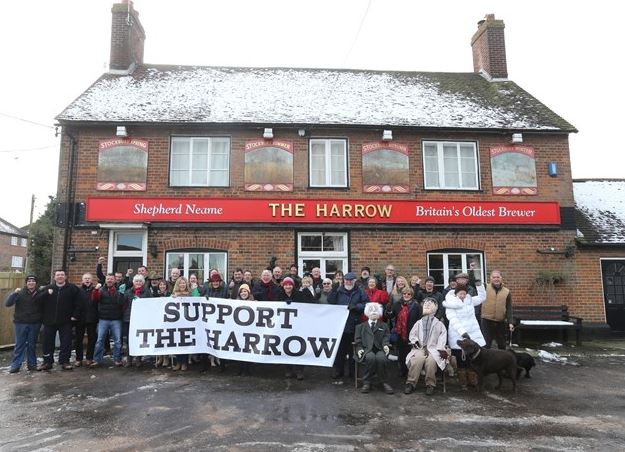 Picture Credit: Kent Messenger
Campaigners in Kent have been put on the map after winning CAMRA's prestigious Pub Saving Award, which recognises communities that save their beloved local pub from closure.
Judges were particularly impressed by how the residents of Stockbury, Kent came together to save a 200-year-old pub and turn it into a thriving community hub with social lunches for vulnerable people, book swaps and an internet cafe.
The Harrow faced imminent closure after it was put on the market in September 2016. Local campaigners quickly went to work to secure the £380,000 needed to purchase the pub from Shepherd Neame by building a strong network of 140 local shareholders and tapping into the Plunkett Foundation and More Than A Pub for funding.
The campaign group raised awareness of the pub's plight throughout the local community by utilising local papers and hosting various events such as quiz nights, BBQs and performances in the village centre. Local MP Helen Whately wrote directly to Jonathan Neame to throw her support behind the community group and councillors donated funding towards the refurbishment of the pub.
The pub successfully re-opened in August 2017 with the ambition of being the "social hub of the community". Today it offers a regular social lunch for vulnerable members of the community – including pick up and drop off services – as well as a book swap and an internet cafe for those with poor internet access. Local darts and petanque teams have returned to the pub and it is now a buzzing and thriving part of Stockbury.
Chris Porter Chair of the Harrow CBS Group says: "It is a fantastic achievement to have saved this pub from closure thanks to the help of hundreds of people – stakeholders, villagers, councillors, press, MPs and groups like Pub is the Hub and Plunkett.
"Through these efforts our little community is better connected than ever before. It is an absolute delight to receive this award from CAMRA and be able to show other communities that it is possible to save their local from disappearing forever."
Nicole Hamilton, Head of Frontline at Plunkett Foundation, said: "The Plunkett Foundation were delighted to be involved in judging the Pub Saving Award and encouraged to see so many strong applications from communities who actively campaigned to save their local pub. The Harrow, supported by the More than a Pub programme, is a shining example of what can be achieved and through a strong campaign have ensured their community pub business meets the wider needs of their community and members."
Paul Ainsworth, who organises CAMRA's Pub Saving Award adds: "The Harrow CBS group used every tool available to save their beloved pub from closure, and it is an absolute delight to celebrate this with our Pub Saving Award. Once a pub is closed, it is too often lost forever and their success should be a great inspiration to other communities faced with losing their local – pubs really can be saved."
The runner-up in the competition was the Craufurd Arms Community Group, which grabbed the attention of judges after saving the last pub in North Maidenhead using the combined efforts of everyone down to the local residents all the way up to the Prime Minister.