About the Award 
Our annual Pub Design Awards are held in conjunction with Historic England and recognise the highest standards of architecture in the refurbishment and conservation of existing pubs as well as in the construction of new ones. They are judged by a panel of experts in design and conservation.
Nominate a Pub
Nominations for this year have now closed. 
Historic England Conservation
Sponsored by Historic England, this award is usually given for work which conserves what is good in the pub to ensure its future for generations.
Refurbishment
Refurbishment can range from a complete gutting and replacement to enhancing the design of what was originally in the pub.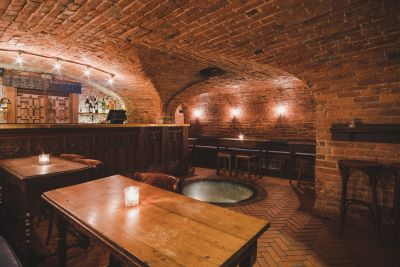 Conversion to Pub Use
When an existing building is converted to pub use. Pubs are judged on the taste and restraint used on the outside and inside of the pub.
New Build
This category assesses newly built pubs. They might reflect its past or it could be completely modern.
Joe Goodwin Award (now the Community Local Award)
Named after the late CAMRA chair Joe Goodwin, the award is reserved for outstanding refurbished street-corner locals.
Find the 2019 Pub Design Award winners below
Historic England Award for Conservation
Winner: Zetland, Middlesborough
Originally built in 1860 as a pub/hotel, the Zetland was painstakingly restored in 2017, which included sourcing custom-made tiles from the very firm that created tiles for the pub over 120 years ago. An 1893 addition of a lounge was designed by a local architect, and to this day it retains its superb display of round-arched mirrors with surrounding tilework in cream, browns and light blue, together with an ornamented plaster cornice and frieze. It was closed in 2015, and subsequently re-opened by new owners Philip and Joanne Christie in September 2018.
Refurbishment Award
Joint winner: Farmers Arms, 

Woo

l

fardisworthy

, Devon
Initial archaeological assessments of The Farmers Arms suggested that it had served as a public house for much of its 300-year life, before the last pint was pulled in 2012. While many pubs around the country are being converted into housing, the owners' vision was to see it restored to a working pub, conserving the use it was originally designed for and retaining its unique character as a historic building. The historic layout was retained in refurbishment and restored in areas where the team removed modern additions. They also re-established the original entrances, even though one is only five foot high!
Refurbishment Award
Joint winner: The Peterborough Arms

, 

Dauntsey

 Lock, Wiltshire
The Peterborough Arms was restored by a team of volunteers and reopened in 2018. It was originally built as a farmhouse in the late 18th century and was protected as an Asset of Community Value, prior to being taken on by the Wilts & Berks Canal Trust. All rooms on the ground floor and the cellar were extensively refurbished with sympathetically restored floors and lime mortar to the walls, consistent with the Grade II listing. The pub opened again in December 2018 and is trading successfully, having built a reputation for good ales, food and attentive staff. Three letting rooms are still to be refurbished – currently, the volunteer hours that have gone into the project are in excess of 10,000.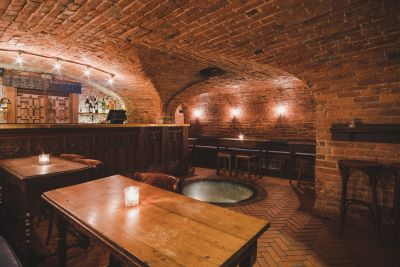 Conversion to Pub Use Award
Winner: Plau, Preston
Built in 1668 as a butcher's shop, Plau was converted into a pub in 1795. However, this closed in 1913 and only reopened as a pub after a gap of 105 years in 2018. Originally named the Plough Inn, it is situated on Friargate, which formed part of the medieval town of Preston. In 2015, the building was bought by Jeremy Rowlands, the owner of the Continental and Ferret pubs; he and his team undertook a great amount of restoration of the pub. With bare wood floors, dark timber panelling on the walls and a marble-topped bar, it is hard to imagine that not long ago this was an empty shell. The highlight of this astonishing restoration is the cellar bar.
New Build Award
Winner: Hall & Woodhouse, Swindon
Built as part of the Wichelstowe housing expansion, the Hall & Woodhouse occupies a prominent canal side site in the town centre and is an important asset for the emerging community. Glazed drinking and dining areas extend along the canal frontage in the manner of a terrace of traditional boathouses, with gabled roofs opening onto the water's edge, forming an extensive area of covered outdoor space. The taller accommodation block references traditional canal side warehouses. The form of the building also looks to reflect the architectural heritage of industrial Swindon, evoking imagery of the open trussed roofs of the train sheds and warehouses that are such an iconic feature of the town. The internals are a juxtaposition of industrial structure and soft furnishings, with walls adorned with local, boatbuilding, family and brewing heritage images.
Joe Goodwin Award (now the Community Local Award)
Winner: Shakespeare, Bridgnorth
The Shakespeare is a taphouse with beer truly at the heart, with log burners and bespoke stained-glass windows adding to the pub's character. It is home to cosy snugs and great events spaces, with the new Boat House and internal courtyard maximising flexibility and accessibility. The renovations gave the Shakespeare its character and warmth back, preserving the log burners already in place and ensuring they were focal points throughout the pub. The addition of bespoke stained-glass windows commissioned by owners Joule's Brewery adds a touch of timeless detail to the pub's character, and hopefully which will be preserved for years to come.
Conversion to Pub Use Award 
Highly Commended: Old Mill Bar, Leek
The Old Mill Bar is a former textile mill, whose conversion saw the whole interior stripped back to the original Victorian brickwork of the former mill. Its ground floor has been converted into a bar, on which a selection of real ales, craft beers and real ciders can be served. The first floor has been converted to form an open plan restaurant, and the whole interior has been stripped back to the remarkably preserved original Victorian brickwork of the former working mill, which made Leek famous and wealthy in a bygone age. Both floors are furnished in a Spartan but comfortable industrial style, with much use made of RSJ steel work, scaffolding poles, planks, reclaimed wood etc and fits in very well with the exposed brickwork.