About the Award 
Our annual Pub Design Awards are held in conjunction with Historic England and recognise the highest standards of architecture in the refurbishment and conservation of existing pubs as well as in the construction of new ones. They are judged by a panel of experts in design and conservation.
Nominate a Pub
Use the form below to nominate a pub. Nominations close 28 November 2021.
Historic England Conservation
Sponsored by Historic England, this award is usually given for work which conserves what is good in the pub to ensure its future for generations.
Refurbishment
Refurbishment can range from a complete gutting and replacement to enhancing the design of what was originally in the pub.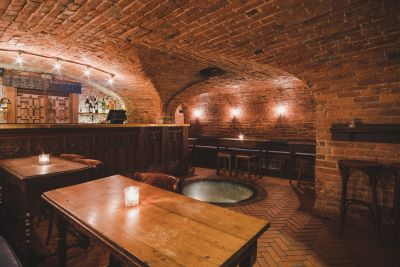 Conversion to Pub Use
When an existing building is converted to pub use. Pubs are judged on the taste and restraint used on the outside and inside of the pub.
New Build
This category assesses newly built pubs. They might reflect its past or it could be completely modern.
Community Local Award (formerly the Joe Goodwin Award)
Named after the late CAMRA chair Joe Goodwin, the award is reserved for outstanding refurbished street-corner locals.
All previous winners
Find more information on all our winners to date.
Nomination Form – deadline 28 November 2021
This application form is designed to be used by pub owners and others involved in designing and refurbishing pubs. We welcome nominations from CAMRA members and other pub-goers and accept that they may not have access to all of the information requested in the form. Please send us as much information as you can – some photographs of the interior and details of any pub website would be particularly welcome.
Find the 2020 Pub Design Award winners below
Historic England Award for Conservation
Winner: Swan & Railway, Wigan
The Swan & Railway, Wigan is a fine listed building of 1898, situated opposite Wigan North Western rail station at the gateway to the town. It had been closed for some time and was in poor condition when purchased by John Brearley in 2018. Working with Monument Design, and liaising closely with Wigan Council's Conservation Officer, the building has been put into sound, weatherproof condition, with a new roof, and external fabric repaired. The interior has been completely restored, in all its tiled and wood-panelled glory. New toilets, a marble top to the bar counter, and guest accommodation upstairs enhance the visitor experience. From the rather sad building which greeted visitors arriving in Wigan a couple of years ago, it has been transformed into a smart and welcoming place.
Refurbishment Award
Joint winner: The Blind Bull, Little Hucklow, Derbyshire
The Blind Bull, Little Hucklow, Derbyshire was a regular entry in CAMRA's Good Beer Guide in the 1970s and 1980s, but it fell upon hard times and closed, apparently for good, in 2005. After failed attempts to convert it to other uses, a very extensive refurbishment began in 2018, to designs provided by Studio Gedye of Hathersage for the owner, Catriona Grant. Using local craftspeople, and retaining original features and materials, the refurbishment was planned to be as eco-friendly as possible. A conservatory extension provides additional space in the pub itself, while a separate accommodation block should provide additional income to support the business. It is a worthy joint winner of the Refurbishment Award.
Refurbishment Award
Joint winner: The Green Dragon, Flaunden, Hertfordshire
The Green Dragon, Flaunden, Hertfordshire, was also in poor condition when the new owner, Mike Ghazarian, set about refurbishing the pub in 2019 to the designs of architect Martin Kearney of Newline Architects. A historic building with a timber-framed core, it featured in CAMRA's Britain's Best Real Heritage Pubs for its Tap Room, a simple rustic room retaining its quarry-tiled floor and fixed bench seating. However, the pub had suffered from unsympathetic alterations in recent years. The work that has been carried out here is well-designed without being showy, and is raised above the ordinary by the unusually high quality of the workmanship and finishes. The historic parts of the pub have been carefully restored, whilst more modern parts have thoroughly refitted in a contemporary manner. Again, a worthy joint winner.
Conversion to Pub Use Award
Joint winner: The Brickmaker's Alehouse, Bexhill-on-Sea
The Brickmaker's Alehouse, Bexhill-on-Sea, East Sussex, occupies premises which at various times have been occupied as a shop, as a café, and, during the 1930s, as an office and showroom for a local brick manufacturer – hence the name. It retains some fireplaces built from their products, as well as an attractive mosaic threshold featuring their name. Owners Martin Payne and Robin Hill, working with MMPC Ltd, who provided the design drawings, have conserved the surviving historic features while ensuring that essential new ones, such as the beer cabinet and the servery are of high-quality design. The result is an attractive place with a definite 'pub' feel, something which not all micropubs manage to achieve.
Conversion to Pub Use Award
Joint winner: The Colmore Tap, Birmingham
The Colmore Tap, Birmingham occupies an area many times that of the Brickmaker's Alehouse. Yet the same basic principle has been applied by Thornbridge Brewery, working with Collective Design of Newcastle upon Tyne. The premises were previously occupied by a branch of Lloyds, and retained the extensive wood panelling and high-quality fixtures and fittings of an early 20th-century bank in a major commercial centre. The conversion, involving the introduction of a 30-foot-long bar counter, and fitted seating, has made extensive use of wood, marble and glass to turn a quality interior into a very comfortable and up-market bar.
New Build Award (2019 winner – no 2020 winner)
Winner: Hall & Woodhouse, Swindon
Built as part of the Wichelstowe housing expansion, the Hall & Woodhouse occupies a prominent canal side site in the town centre and is an important asset for the emerging community. Glazed drinking and dining areas extend along the canal frontage in the manner of a terrace of traditional boathouses, with gabled roofs opening onto the water's edge, forming an extensive area of covered outdoor space. The taller accommodation block references traditional canal side warehouses. The form of the building also looks to reflect the architectural heritage of industrial Swindon, evoking imagery of the open trussed roofs of the train sheds and warehouses that are such an iconic feature of the town. The internals are a juxtaposition of industrial structure and soft furnishings, with walls adorned with local, boatbuilding, family and brewing heritage images.
The Community Local Award (formerly the Joe Goodwin Award)
Winner: Bridge Inn, Horwich
This award is given in memory of Joe Goodwin, a former chair of CAMRA who was a champion of the street-corner local as a focus for the community. The winner this year is the Bridge Inn, Horwich, near Bolton, perhaps on the large side to be described as a 'street-corner local', but an important community amenity nevertheless. Run-down under pubco ownership, the building was in poor condition when purchased by the current owners, Bridge Inn Horwich Limited. The building has been fully refurbished, the shades adopted for walls and woodwork allowing the very fine original tilework to be properly appreciated. The function room on the first floor, out of use for many years, is now back in commission, with guest accommodation on the second floor. It is now a comfortable hub for community activities.
Refurbishment Award 
Highly Commended: Air Hostess, Tollerton
Such was the quality of the entries for the Refurbishment Award that the judges have also awarded a 'Highly Commended' certificate to the Air Hostess, Tollerton near Nottingham. When this village pub was acquired by a community interest company, Tollerton Flying Club, their brief to their architects, Longworth Associates, was to increase the internal space and the useable external area, to introduce a degree of internal flexibility to allow use by different community groups, and to create a welcoming and family-friendly atmosphere. The result is much lighter and brighter, but still obviously a traditional village pub in terms of layout and decoration.