Spread the Joy. Give CAMRA Gifts this Christmas
A full year's CAMRA membership includes:
A welcome pack
Opportunities to campaign for great beer and pubs, and to save pubs under threat from closure
Award-winning BEER magazine (quarterly) and What's Brewing online news platform
Learn & Discover resources

to help you discover more about beer and brewing

Discounts on CAMRA books including our best-selling Good Beer Guide
Exclusive member discounts from retailers and other outlets
Free or reduced entry to over CAMRA beer festivals 
£30* worth of CAMRA real ale vouchers

 

(for use at pubs including JD Wetherspoon, Stonegate, Amber Taverns, Brains and more)
The Real Ale Discount Scheme where you receive discounts on pints at over 3,500 participating pubs with your membership card.
Find out more about all the CAMRA Benefits available to members.
*£40 of CAMRA beer vouchers for Joint membership
Treat friends and family to
a Joyful Gift
with CAMRA Membership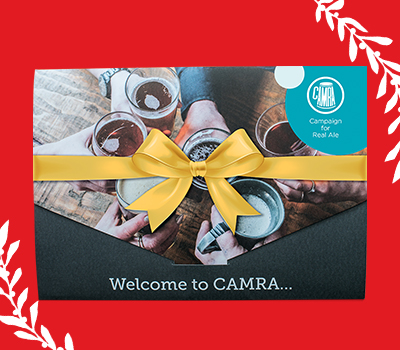 Give the gift of CAMRA Membership, it's a whole year's worth of enjoyment for all beer or pub lovers in your life.
And while they're enjoying great beer and pubs, your gift will be helping us to protect the great British pub and everything that goes with it. At the current time, this is now more important than ever!
CAMRA Gift Membership from just £30.50 (plus concessionary rate and joint rates also available).
The perfect gift for all beer enthusiasts or pub goers   
Every CAMRA membership or gift purchase helps us champion quality real ale, cider and perry,
and protect the nation's pubs for all.
Joyful Christmas Gifts for Friends and Family
Visit the CAMRA Shop for more Christmas joy and purchase additional Christmas gifts  
Roger Protz puts a spotlight on the great and often amazing beers produced in every continent. A World Beer Box Tasting with Roger Protz is also available.
Jonny Garrett explains why drinking seasonally might just teach us more about what we drink and why. A bold and exciting new look at beer!
Gabe Cook sheds light on the incredible diversity that exists within cider in the UK today in this cider guide.
Matthew Curtis maps the evolution of Modern British Beer through the intricate stories of 86 individual regional beers.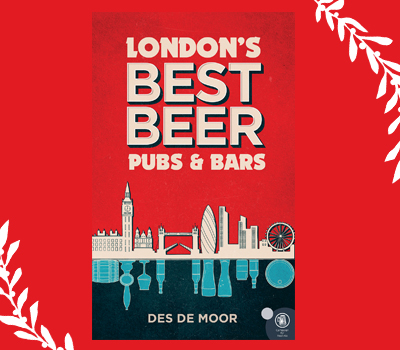 Fully updated to reflect the growth of London's beer scene, with over 300 listings for pubs, beer bars and more.
World Beer Box Tasting with Roger Protz
ONLINE EVENT 27 January 2022 @ 7pm
Join world renowned beer writer Roger Protz for a global beer tasting event with six beers from the World Beer Guide
"We will be charting different beer scenes, key players and styles available across the globe. I can't wait for you to join me…"
Note: last guaranteed order date: 20 December
Have a Joyful Christmas with CAMRA. Spread the Joy.
Give CAMRA Gifts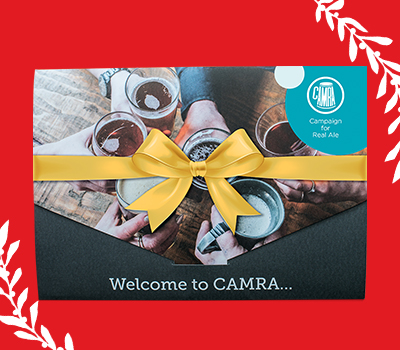 Treat friends and family to CAMRA gift membership. The perfect gift for all beer and pub lovers.
More Christmas Joy! Find a great gift from the full range of CAMRA books and merchandise.