Spread the Joy. Give CAMRA Gifts this Christmas
A full year's CAMRA membership includes:
A welcome pack
Opportunities to campaign for great beer and pubs, and to save pubs under threat from closure
Award-winning BEER magazine (quarterly) and What's Brewing news
Learning resources

to help you discover more about beer and brewing

Discounts on CAMRA books including our best-selling Good Beer Guide
Exclusive member discounts from retailers and other outlets
Free or reduced entry to over CAMRA beer festivals (Back 2021*)
£30 worth of CAMRA real ale vouchers

 

(for use at pubs including JD Wetherspoon, Stonegate, Amber Taverns, Brains and more)
The Real Ale Discount Scheme where you receive discounts on pints at over 3,500 participating pubs with your membership card.
Find out more about all the CAMRA Benefits available to members.
*subject to lifting of government restrictions
Treat friends and family to
a Joyful Gift
with CAMRA Membership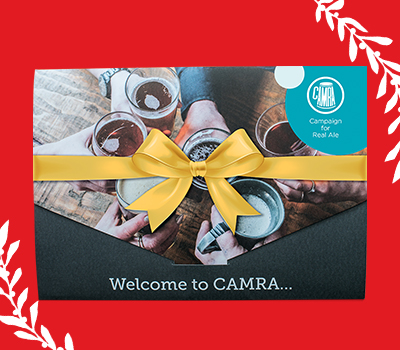 Give the gift of CAMRA Membership, it's a whole year's worth of enjoyment for all beer or pub lovers in your life.
And while they're enjoying great beer and pubs, your gift will be helping us to protect the great British pub and everything that goes with it. At the current time, this is now more important than ever!
CAMRA Gift Membership from just £28.50 (plus concessionary rate and joint rates also available).
The perfect gift for all beer enthusiasts or pub goers   
Every CAMRA membership or gift purchase helps us champion quality real ale, cider and perry,
and protect the nation's pubs for all.
Joyful Christmas Gifts for Friends and Family
Visit the CAMRA Shop for more Christmas joy and purchase additional Christmas gifts  
A fascinating celebration of British Brewing heritage from leading beer writer Roger Protz. Uncover the history of the family brewers of Britain from the 17th century to the present day.  
Take up a new hobby or develop new recipes with with this practical pocket-sized reference book that provides an introduction to the joys of home-brewing in an easy-to-understand way.
Discover Britain's most traditional pubs through CAMRA's best-selling Real Heritage Pub series, from unspoilt country delights and old coaching inns to cosy Victorian locals and characterful interiors.
The Good Beer Guide is the 'definitive' guidebook to help you discover good pubs that serve real ale across the UK. Now in its 48th edition, the beer-lovers' bible is fully revised and updated each year.
Find out all about the art of good beer branding. With over 2500 breweries, most of whom brew an ever-changing range of different beers, how do they stand out from the crowd?
Note: last guaranteed order date: 18 December
Have a Joyful Christmas with CAMRA. Spread the Joy.
Give CAMRA Gifts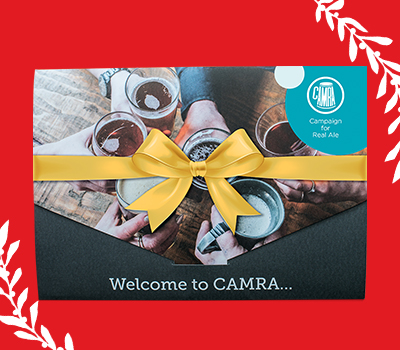 Treat friends and family to CAMRA gift membership. The perfect gift for all beer and pub lovers.
More Christmas Joy! Find a great gift from the full range of CAMRA books and merchandise.