CAMRA's campaign for a full pint
We've brought back our campaign to call for the Government to enshrine the right to a full pint in law.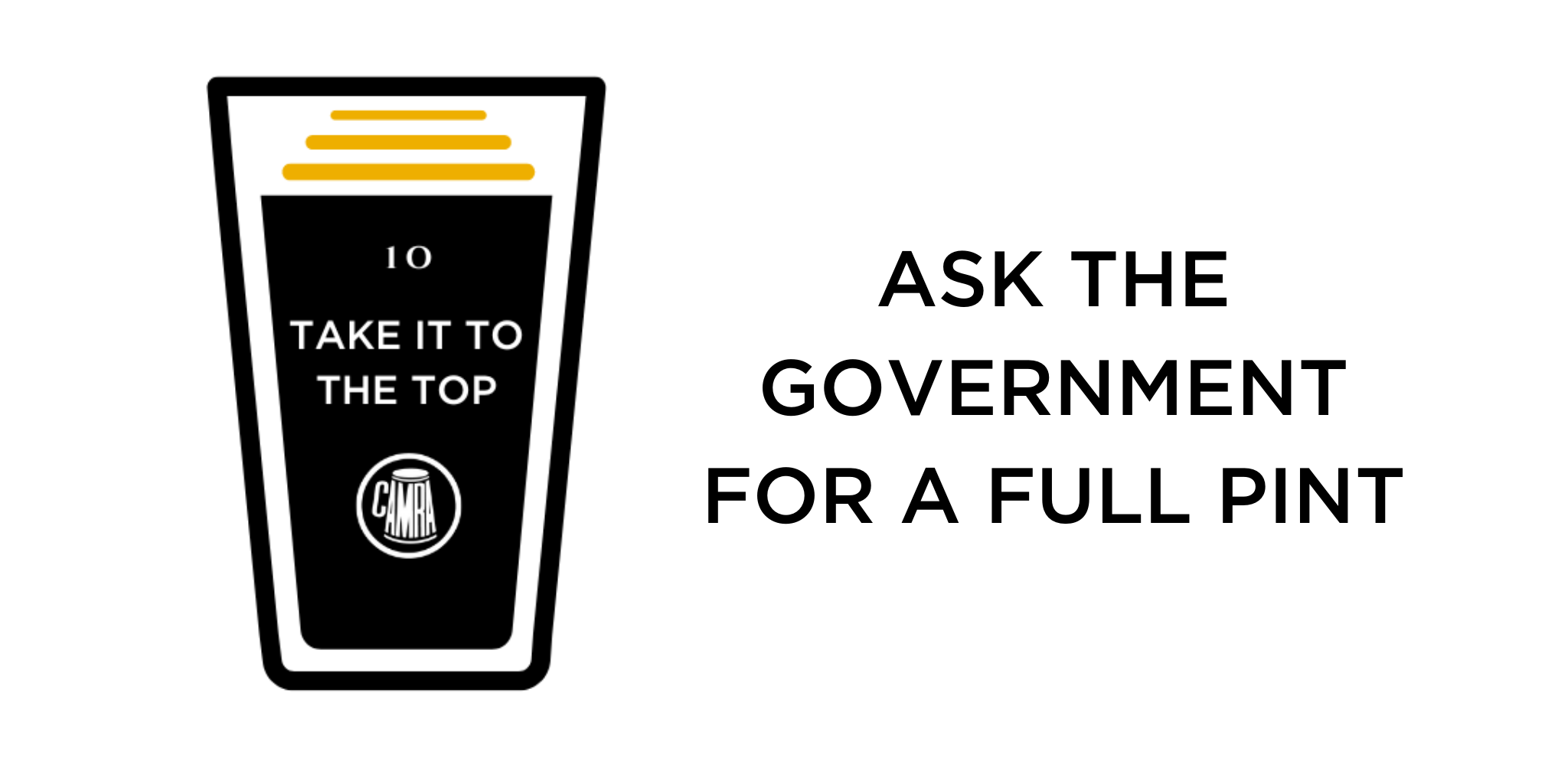 Why now?
The Government have recently published new guidance on use of the Crown marking, and a consultation on use of imperial measurements that may result in changes to weights and measures legislation – which is the relevant bit of law that would need to change to define a pint as 100% liquid.
The Government doesn't propose changes to this legislation very often, so we want to seize this opportunity.
Why do we want this?
Many consumers do not realise that a pint of beer isn't defined as 100% liquid in law. This means that every single time a consumer buys a pint, they could be short-changed without any real recourse if a top-up is refused.
We are a consumer group and getting what you pay for is a basic consumer right.
This situation isn't accepted when you're buying a pint of milk or a litre of petrol. You wouldn't pay the full amount for 90 or 95% of the product, but for some reason this is accepted in the case of beer.
The story so far
CAMRA has been campaigning for consumers to have the right to a full pint since 2007. Now we've brought our original campaign back, to take this issue to the top of Government, and make sure that consumers have the option to get what they pay for at the bar.
Frequently Asked Questions
What does this mean for pubs?
This would be a change, but it doesn't need to be a large problem. We are not asking for the Government to legislate to require pubs to use oversized lined pint glasses or metering equipment – we simply want the right to a 100% liquid pint enshrined in legislation.
We understand some customers are happy with a less than 100% liquid pint if it includes a head – this is absolutely their choice, but CAMRA believes if a consumer does feel they have been served a short measure, pubs should grant a top up when requested.
As a consumer group, we do believe the best way to accommodate the serving of full pints is through using oversized lined glasses, as used at CAMRA festivals and in some pubs already, but you can also achieve this through granting a top up at the bar, if requested.
Just like when labelling requirements change for alcoholic drinks, these are phased in as stock is used up. If pubs do want to facilitate a guaranteed full pint through using oversized lined glasses, it makes sense to replace stock as it breaks or is no longer useable, rather than replacing everything at once.
What does it mean for drinkers and how should they assert their consumer rights?
We want CAMRA members and beer drinkers to call on the government to ensure their right to a 100 per cent liquid pint is enshrined in regulations.
Anyone (CAMRA member or not) should have a legal right to receive a top up at the bar if they think their pint (or half or third) is short but should be polite when requesting that.
We do not condone anyone being rude or demanding of bar staff in CAMRA's name. This includes demanding discounts, and we encourage anyone who encounters unacceptable behaviour from someone claiming to be a CAMRA member to report it to us.
What else is CAMRA doing to help pubs, clubs, brewers, and cider makers right now?
Great question – there's plenty going on:
We're running our Summer of Pub campaign, which aims to rally people down to their local at every opportunity for the first year without any restrictions following the COVID lockdowns. As part of that, we've supported the Thank Brew campaign and Pub Pride.
We're campaigning for a Statutory Pubs Code in Scotland and responding the second review of the Pubs Code that's already in place in England and Wales.
In Northern Ireland, we're now campaigning for a truly independent review of the 'surrender principle', after our success in achieving licensing changes to allow brewers to open taprooms.
Now that we've secured a draught duty rate for beer and cider, we're campaigning for the Government to change the technical details so that it applies to containers of 20L and above, rather than 40L and above.
We've also been calling for more support for pubs, social clubs, brewers, and cider makers due to the cost of business crisis, including things like permanent reductions in VAT, implementing business rates reforms, and bringing forward the implementation of the draught duty rate.
You can also catch up on some of the 'behind the scenes' work from our Campaigns Team in the PUBlic Affairs Round Ups on the What's Brewing website – wb.camra.org.uk
Press releases on our campaigning are in our Media Centre – camra.org.uk/about/media-centre/
As always, if your local pub is under threat, we have guides to help and volunteer experts on hand if you need some advice – camra.org.uk/saveyourlocal
Find out more
Click below to find out more about your rights as a consumer, the history of the pint, and our campaigning steps.